PRO DOSA BOOST TUBE 80ML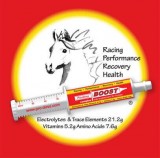 $31.00

NZD


Approx $21.59

USD
Pro-Dosa BOOST

A comprehensive, balanced, bioavailable multi-nutrient paste formulated to replace essential nutrients lost by the equine athlete during training, competition, transport or under stress.  Pro-Dosa BOOST was first launched in New Zealand over a decade ago and is now the biggest selling nutritional paste in Australasia, The Middle East, and many parts of Europe.  It is used internationally in a wide variety of sports including dressage, show jumping, eventing, polo, mounted games, flat, national hunt, harness, and endurance racing.  Horsemen and veterinarians have found it to be useful in supporting normal appetite, thirst, electrolyte balance, red blood cell production, performance, recovery and health.
The ultimate paste for travel, recovery and performance.  Together with many clients we have had years of excellent results using Pro Dosa Boost.

WHY PRO-DOSA BOOST?
The most complete, balanced, bioavailable multi-nutrient paste available for horses
An essential tool in supporting the horse under stress
Nil withholding period – safe to use in competition
Easy to use oral paste
Cost effective
Developed by an equine veterinarian
Manufactured in NZ from premium, pharmaceutical-grade nutrients, suspended in a palatable gel
Manufactured under a comprehensive quality management program (GMP certified)
---
EACH TUBE PROVIDES  ESSENTIAL NUTRIENTS THAT HELP KEEP COMPLEX METABOLIC SYSTEMS FUNCTIONING EFFICIENTLY
Please consider any rules of competition that may apply before following our directions as written.
Racing, Show Jumping, Eventing or Performance Sports
Give 1 tube 4-12 hours before the event
Optional Additional Portions: Give 1/2 to 1 tube after each hard workout and 1/2 the day before the event
Endurance
Prepare as for the other sports
Give 1/2 to 1 tube each loop of race
Transport
Give 1 tube 4-12 hours before departure
On long journeys, ensure regular water stops and give 1 tube after arrival
Health Tonic
Give 1/2 tube every other day for at least two weeks
You may give one full tube to start
Breeding Stallions
Give 1/2 tube every day or every other day for the breeding season
Mix portion into the feed or apply to the back of the tongue. Ensure fresh water is available.


Pro-Dosa BOOST can be administered orally over the tongue or placed on the feed. Ensure there is plenty of clean, fresh water available.
For ease of administration, Pro-Dosa BOOST is available in an 80ml syringe. Consider any rules of competition that may apply prior to following directions as they are written.
Pro-Dosa BOOST contains no banned substances and requires no withholding time for drug testing. If you have any questions regarding the administration of Pro-Dosa BOOST please do contact us.
---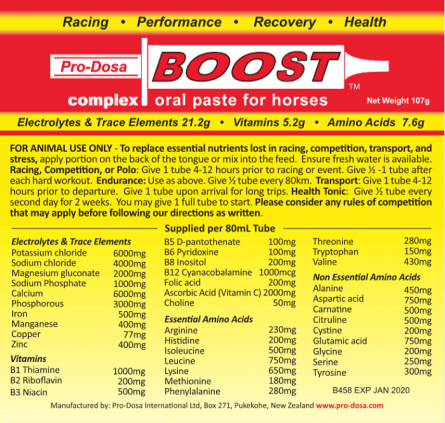 Have you ever wondered what the nutrients found in feed supplements actually do?
Below is a list of some of the nutrients found in Pro-Dosa BOOST and the role they play in equine health.
Isoleucine, Leucine, and Valine
Are involved in normal growth
Are involved in normal protein synthesis and energy production
Tryptophan
Has a role in normal growth and the synthesis of Niacin (vitamin B3)
Threonine
Required for normal growth, feed conversion and nitrogen balance in tissues
Methionine
Aids liver in detoxification mechanisms
Arginine
Has a role in promoting release of metabolic hormones – insulin and growth hormone
Is involved in the immune response
Histidine, Lysine, Phenylalanine and Glutamic Acid
Are involved in normal growth
Are involved in normal protein synthesis and energy production
Zinc
Has a role in general growth and metabolism, healthy coat, skin, mucous membranes, and hooves
Is required for normal bone and cartilage development
Copper
Has a role in iron metabolism, bone development, and maintenance of elastic connective tissue
Manganese
Has a role in general metabolism, development of bone, cartilage and connective tissue
Iron
Has a role in maintaining normal metabolism
Is a component of haemoglobin in red blood cells
Magnesium
Has a role in general metabolism and the formation of bone and teeth
Is involved in maintenance of nervous function
Calcium
Has a role in normal growth and maintenance of bones, teeth, nervous system, muscle function, blood clotting mechanism and cardiac function
Phosphorous
Has a role in general metabolism and nerve function
Is involved in the normal formation of bones, muscles and teeth
Potassium
Has a role in maintaining cellular integrity and healthy nerve and muscle function
Has a role in muscular contraction, nerve function and relaxation of the heart muscle
Sodium and Chloride
Has a role in maintaining normal electrolyte balance in body tissues during heavy exercise
Has a role in recovery after strenuous exercise
Choline
Is involved in metabolism of fats
Has a role in transmitting nerve impulses
Folic Acid
Involved in general metabolism Involved in the formation of white blood cells, red blood cells, and haemoglobin
Vitamin B12 (Cyanocobalamin)
Has a role in general metabolism, nervous and reproductive function
Has a role in blood cell production
Vitamin B6 (Pyridoxine)
Has a role in general metabolism, nervous system function, normal healthy skin and vision
Is involved in red blood cell formation
Vitamine B5 (Pantothenic Acid)
Has a role in normal energy metabolism, reproduction, growth and nerve function
Involved in transmission of nerve impulses
Needed for health of skin and hair
Involved in red blood cell production
Vitamin B3 (Niacin)
Involved in general metabolism and red blood cell formation
Has a role in maintaining normal healthy skin and hair condition
Vitamin B2 (Riboflavin)
Is required for normal general metabolism, growth, and red blood cell production
Has a role in maintaining integrity of skin, mucous membranes
Vitamin B1 (Thiamin)
Has a role in the metabolism and maintenance of normal muscle and nerve function
Has a role in assisting in the maintenance of normal appetite and body weight
Vitamin C (Ascorbic Acid)
Has a role in maintaining healthy cartilage, tendons and bone
Necessary for the absorption of Iron from the gut
Has a role in stabilizing cell membranes
Has a role in scavaging free radicals which produce oxidative damage in exercising muscles